Three Cup Tofu is a traditional Taiwanese dish that has been enjoyed for generations. This mouth-watering meal is made with three cups of flavorful ingredients that blend together to create a tasty and aromatic sauce that is served over cubes of soft tofu. If you're looking for a simple but tasty meal that caters to both vegetarians and meat-eaters alike, then Three Cup Tofu is an excellent choice! Our article delves into the backstory of this popular dish and explores the ingredients and cooking techniques involved. Plus, we'll provide you with useful tips and tricks to recreate this exciting recipe at home.
History of Three Cup Tofu
It's believed that Three Cup Tofu originated in the Jiangxi province of China and subsequently made its way to Taiwan, where it has found a place in the hearts of locals. This dish gets its name from the three crucial ingredients that comprise the sauce, namely sesame oil, soy sauce, and rice wine. To add even more complexity to the taste, the recipe includes garlic, ginger, and basil leaves as traditional components.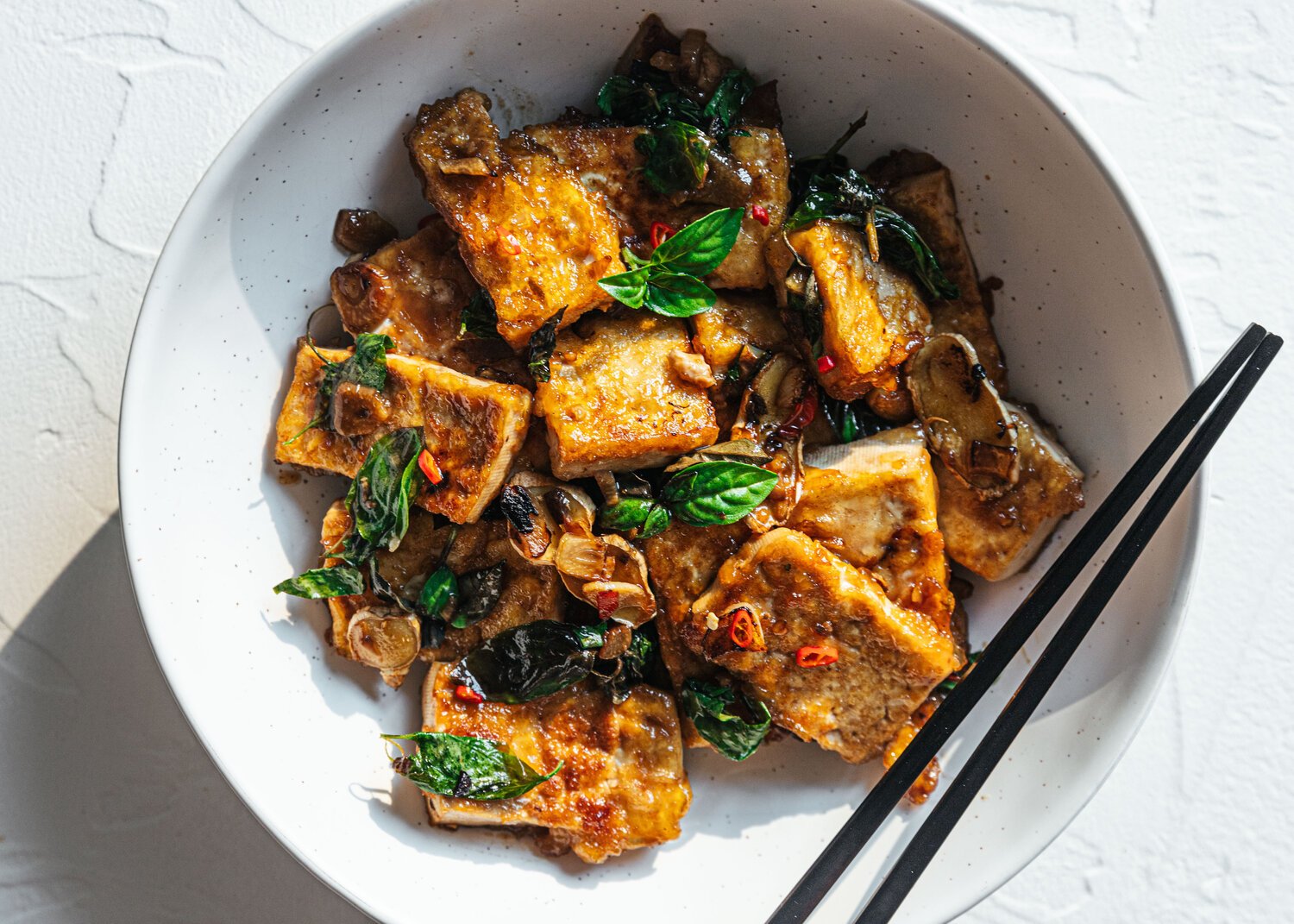 Ingredients and Preparation
To make Three Cup Tofu, you will need the following ingredients:
Firm tofu

Sesame oil

Soy sauce

Rice wine

Garlic

Ginger

Basil leaves

Sugar

Salt

Cooking oil
Once you have gathered all the ingredients, the preparation of Three Cup Tofu is relatively simple. 
Here's how to make it:
Cut the tofu into bite-sized cubes and set aside.

Peel and slice the garlic and ginger into small pieces.

In a hot wok or pan, add the cooking oil and fry the garlic and ginger until fragrant.

Add the cubed tofu to the wok or pan and stir-fry for a few minutes until lightly browned.

Add the sesame oil, soy sauce, and rice wine to the wok or pan and stir-fry for a few more minutes until the sauce has thickened.

Add sugar and salt to taste and stir-fry for another minute or two.

Finally, add the basil leaves and stir-fry for another 30 seconds before serving.
Tips for Making Three Cup Tofu at Home
Making Three Cup Tofu at home can be a fun and rewarding experience. Here are a few tips to help you make the perfect dish:
Use firm tofu

: When used in a stir-fry, firm tofu is preferable since it retains its form better than its softer counterparts. Be sure to pat it dry with a paper towel before cutting it into cubes.

Use high-quality ingredients: Investing in high-quality ingredients will make a significant difference in the outcome of your dish, so don't skimp on these essential food ingredients! Choosing excellent quality ones will guarantee the best taste for your dish and make all the difference in bringing out the flavors in your food.
Adjust the sauce to your taste

: Three Cup Tofu is a versatile dish, and you can adjust the seasoning to your liking. Add more or less sugar, salt, or soy sauce depending on your taste preferences.

Serve with rice

: Three Cup Tofu is best served with steamed rice, which can help soak up the delicious sauce.

Garnish with green onions

: Adding chopped green onions as a garnish can add an extra pop of flavor and color to the dish.
Recipe: Three Cup Tofu Poutine: A Fusion Dish with a Twist
If you're a food lover who enjoys trying an amalgamation of different cultures, then you're in for a treat with our Three Cup Tofu Poutine recipe! This delectable vegan dish is a fusion of the beloved Taiwanese cuisine; Three Cup Chicken and the Canadian classic Poutine. This fusion is a perfect marriage of flavors and a healthy option that's simple to prepare. So, if you're looking to indulge in a unique and interesting combination of tastes, give this recipe a try!
With irregular tofu chunks that emulate chicken, and baked fries topped with cashew "cheese curds," this dish is a healthier take on the classic Canadian favorite. And, the three-cup sauce, made with soy sauce, maple syrup, and fresh basil, adds a unique flavor profile that's sure to tantalize your taste buds.
Here's how to make this delectable dish:
Baked Fries
To start, preheat your oven to 425°F. Then, slice three small Russet potatoes (or two large ones) into thin strips and spread them evenly on a baking tray. Spray them with oil and sprinkle salt to taste. Bake for 25 minutes at 425°F.
Flip the fries around and turn up the temperature to 475°F. Bake for an additional 15-20 minutes or until lightly browned and crispy. Remove from the oven and transfer to a plate.
Cashew Mozzarella "Cheese Curds"
While the fries are baking, soak 1/4 cup of raw cashews in water overnight. The next day, add the cashews, lemon juice, apple cider vinegar, nutritional yeast, miso paste, salt, and tapioca flour to a blender. Blend until smooth.
Transfer the mixture to a pan over medium heat, stirring continuously, until a smooth and stretchy cheese is formed. Transfer to a bowl or container and let it sit in the fridge for a minimum of 3-4 hours.
Three Cup Tofu
Slice 6 oz of extra firm tofu in half and press for a minimum of 30 minutes with a paper towel and a weight. Using your hands, break up the tofu into irregular chunks. In a bowl, combine 2 tbsp soy sauce with 1 tbsp of toasted sesame oil and stir together.
Coat the tofu chunks in this mixture, then coat in cornstarch. Turn on medium heat and spray the pan with oil. Pan fry the tofu until all sides are golden brown and crispy. Remove from heat and set aside.
In a bowl, combine soy sauce, water, maple syrup, cooking wine, cornstarch, and ginger. Lightly sauté the sliced garlic with sesame oil. Pour in the sauce mixture into a pan over medium heat. Stir until it starts to thicken. Add in the tofu, and stir until fully coated in the sauce. Add in the fresh basil and cook for a few more minutes.
To assemble, break the cashew mozzarella into small chunks and place over fries on the plate. Pour the three cups tofu and the sauce over the top. And there you have it – a delicious and healthy fusion dish that's perfect for any occasion.
Recipe: San Bei (Taiwanese Three Cup) Tofu and Ramen 
Ingredients:
12 ounces package extra-firm tofu

2 tablespoons vegetable oil

5 slices fresh ginger

5 garlic cloves, peeled and smashed

1/4 cup toasted sesame oil

1/4 cup soy sauce

1/4 cup Chinese cooking wine

1 tablespoon rock sugar or raw sugar

1 cup water

1 teaspoon cornstarch

A large handful of Thai basil leaves

6 ounces ramen noodles or thin yellow noodles

2 soft-boiled eggs, halved lengthwise
Instructions:
Drain the tofu and pat dry with paper towels. Carefully slice into thick slices.

Heat a medium pan on medium-high and add the vegetable oil. Pan-fry the tofu slices for several minutes on each side until golden brown. Remove to a paper towel-lined plate and let drain.

Remove any excess oil in the pan and then add the sesame oil. Stir fry the ginger and garlic over low heat until fragrant.

Add the soy sauce, cooking wine, rock sugar, water, and tofu slices. Bring to a boil and then reduce the heat, simmering for about 7 minutes.

In the meantime, cook the ramen noodles according to the package instructions. Drain and set aside.

In a small bowl, mix the cornstarch with 2 tablespoons of water to make a slurry. Add it to the pan and stir until the sauce thickens.

Add the cooked ramen noodles to the pan and toss to coat with the sauce.

Serve the tofu and ramen in bowls, topped with Thai basil leaves and halved soft-boiled eggs.
Closing Thoughts
Three Cup Tofu is a beloved Taiwanese dish that has become popular worldwide. If you're in the mood for a scrumptious yet uncomplicated meal, look no further than Three Cup Tofu! The magic of this dish is in the harmony of its three vital components – sesame oil, soy sauce, and rice wine – that synergistically blend together to create a mouth-watering sauce that matches the creamy texture of tofu impeccably. Whether you're a die-hard fan of Taiwanese cuisine or a curious foodie seeking to venture into new flavors, Three Cup Tofu is most certainly a dish worth giving a shot at!